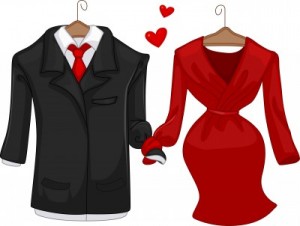 Is your closet eternally cluttered and packed because you have to share it with someone? You're not alone! Couples, roommates and siblings everywhere struggle with fitting more than one person's belongings into a small closet space. It is possible to achieve the organized shared closet, but it will take a little planning and possibly a little sacrifice on your part. Use these ideas for getting your shared closet organized in a way that works for both of you.

Be Selective
The first step, as always, is to get rid of whatever you can from the closet. Some things, like sports equipment, storage boxes, and suitcases take up too much valuable space in a closet shared by two people. Get these things out and decide what will be allowed in the closet. Purses, shoes, and storage items can be banished to make room for what you really need. Utilize the space underneath the bed. Use a trunk or armoire. Get as much as you can out of the closet so that you have a chance of getting it organized.
Use Specialty Hangers
The next step is to organize accessories in the smallest space possible. Belts, ties, scarves, hats, even swimwear can be easily organized on a specialty hanger. Using a tie hanger, belt hanger, or scarf hanger can get things off of shelves, making room for folded clothes or shoes. These types of hangers are very useful because they help you to organize a lot of little things in an inch or two of space. Install hooks inside the closet to hang them from so that they'll be easy to access when the hanging bar is full of clothes.
Use Shelves
You can install shelves right down the middle of the closet for folded things, like sweaters, jeans, pajamas, or t-shirts. Go ahead and extend the shelves to the ceiling in the closet if you can. Make them deep enough to put stacks of clothes that you need to store in the back of what you are currently using. Having a divider down the center will help to keep you and your closet buddy's things separated.
Use Space Saving Hangers
SlimLine Hangers can be a real lifesaver in a shared closet. These hangers available at Only SlimLine Hangers are super skinny, taking up half the space of plastic tubular hangers. They have a velvet coating so that your clothes stay firmly positioned on the hanger, even if your closet mate rummages through a lot. You can piggy-back these velvet hangers to coordinate outfits and save even more space. Pants hangers that hold a few pairs of pants at a time are also great for making more room.
About the Author: Rick Miller is on the staff of Only SlimLine Hangers, a leading online resource for SlimLine Hangers, which are velvet space saving hangers. For more information, please visit http://www.onlyslimlinehangers.com.