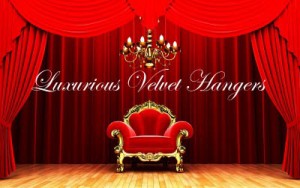 The New Year is here and it's time to get rid of the old and make space for the new. Christmas is often when we realize that it is definitely time to tackle the closets. Making room for new items is a priority and getting things in order for the New Year is always a good idea. Get a fresh start by reorganizing your closets using our space saving hangers kits. You'll be able to double or even triple closet space, making room for all of your new Christmas goodies while preparing for a New Year.

We Love Velvet!
Discover why velvet is the coating of choice for Only Slimline Hangers! Velvet gives hangers a gentle grip that holds every fabric gently in place. You won't believe how straight, organized and wrinkle-free your closet becomes when you use our luxurious velvet hangers. We have a wide variety of colors to match everyone's taste. No matter how much you move clothes around, rummage through the closet, or add things in, your clothes will not budge. No more clean clothes found crumpled on the closet floor.
Hanger Accessories Save More Room
We have soft, velvet coated finger clips that can be added to any of our hangers. Turn your multi pants hangers into skirt or shorts hangers. Cascade clothing, one hanger from another, with our matching cascading hooks. Coordinate outfits, pair up tops and bottoms, double-up space, and enjoy the neat and organized look of your closet with our space saving hangers kits, which include all of the hanger accessories you will need to fully outfit your closet.
They're So Beautiful!
Not only do our velvet hangers have tons of space saving applications, they also add texture, style, personality and color to your otherwise boring closet. Keep his and hers clothes separate with hot pink hangers for her and burgundy hangers for him. Spice it up with zebra print hangers or make your daughter's day with adorable pink hearts hangers for kids. Use different colors to keep work-out clothes, work clothes, casual wear, and lingerie all separate in the closet. There are so many options to choose from and all will improve the space, looks, and quality of your closet. Get your closets organized before the New Year is in full swing. Spring cleaning will be a breeze with your Only Slimline Hangers in your closets.
About the Author: Rick Miller is on the staff of Only Slimline Hangers, a leading online resource for velvet hangers which are space saving hangers, non slip hangers and slim line hangers. For more information, please visit http://www.onlyslimlinehangers.com.